Marathon, Florida vacation rentals website for the independent property owner
Build a second stream of revenue along with your listings on VRBO, Florida Vacation Rentals, AirBnB and other vacation rental websites
I've been saving this client spotlight for the winter, because, Florida Keys! Entrepreneur Joe Curley, whom I've known for more than twenty five years, owns rentals in the Florida Keys. This client spotlight is about the importance of owning your own marketing and not relying solely on the platforms owned by others.
Take a five-minute vacation to the Florida Keys by visiting Joe's site!
Joe's big challenge came with managing his properties solely on sites like VRBO and Florida Vacation Rentals. While these sites are important, because they are very visible and well-known home rental search sites, and serve as the first stop for vacationers looking to rent homes, they also take a hefty percentage of rental income in the form of fees. For Joe, many of his clients return year after year, and they look for him based on his own name. Joe wanted a site that he could use to capture the return client who wants to book direct with him. And he wanted them to find him, if they Googled his name again.
The challenge with using others' platforms comes not only because they take booking fees, but also because you're subject to whatever changes they make. Further, algorithms based on seemingly mysterious factors influence whether your home gets shown often or not so often. While building on a platform like VRBO is great for capturing the client, moving them off for future bookings to your own site is smart business.
We crafted a mobile-optimized, fast-loading site, using photos Joe has taken over the years at his properties. The photos have a "we vacationed here" snapshot vibe. We also bumped up the ooh factor on the home page with inexpensive stock photography in a really easy-to-use slider tool. For locations such as Joe's, using stock is pretty easy because the Keys are well-photographed and stock photos are available for purchase at places like iStock Photo, among other sites.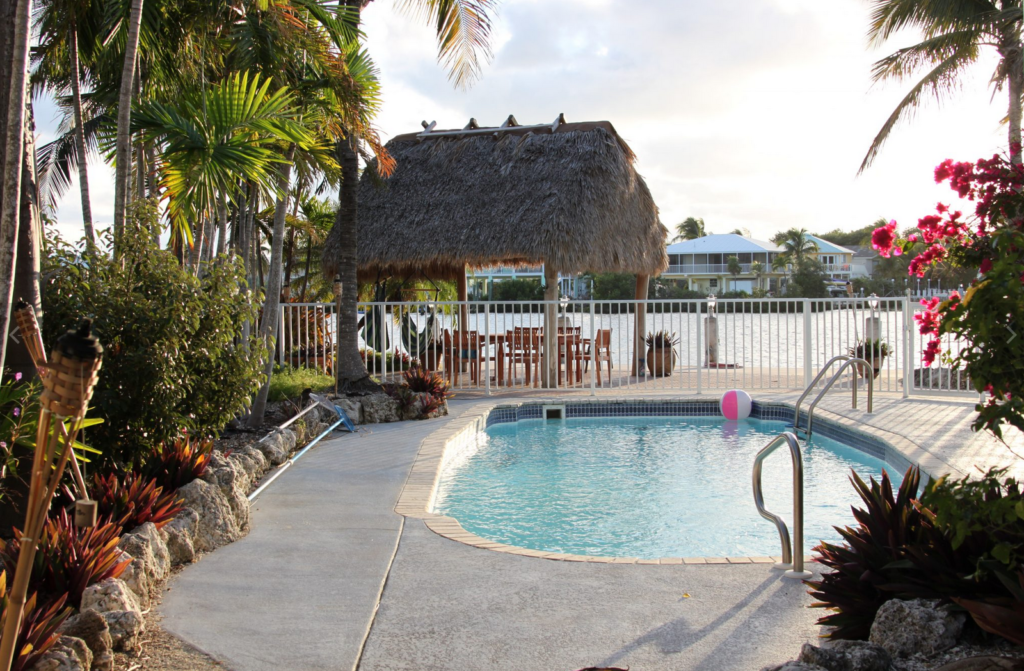 Joe didn't want a traditional booking engine for the smaller number of properties he has, but we could absolutely have built the same interface as the big booking sites, only on his own site.
Further, Joe's clientele varies throughout the year – in the winter, snowbirds and vacationers flock to his homes, looking to escape the winter. But the summer months – specifically June, July and early August, Joe gets most of his visitors from Florida and he's booked well in advance! Yep, if you live in Florida, the Keys are your tropical vacation spot. The water is clear and warm, and the locals are used to the heat at home anyway. Joe gets shoulder spring season visitors from northerly clients. And hurricane season, late August through October is his only soft time – but is easily be filled with last-minute vacationers who can watch the weather (which is gorgeous, save the occasional once-in-20-year storm.) The importance of maximizing keyword searches for this soft shoulder season is key – we included rich descriptions and outbound links to tourism sites in the Keys to capture that visitor that's doing a search (last minute or otherwise.)
Focus on customer journeys: How does the user get to the point of making their decision to buy whatever it is you're selling? When you're looking to book a property, you start broadly and work down your list.
First, if you've never been to the Keys before, you need an orientation. Our Florida Keys – Marathon overview page orients the client to the area first.
Then, once you've decided you love that area, and want waterfront property for your vacation (with a dock for your boat!) you start looking at the properties, including the size of the house, the rental rate and, last, the photos of the rooms and lists of amenities.
Joe's clients also book year after year, so they need a property-level booking contact form where they can select the property they want. And because we're not using a booking engine labeling system (e.g. property 123456), we gave the houses names based on their location and design. When you are flipping through several sites and 10 tabs on your browser looking at various homes at the same time, this helps to remember which one you liked. Booking a vacation home from your couch might take you several sessions across days or even weeks, and this easy-to-remember naming helps when you're talking with your family "What about that Octagon house on Brian St. in Marathon?)
Your last – and most important – task is to book – and Joe prefers they book with him, but we also know that self- service is the name of the game for rental bookings, so the form is specific enough to give the user a feel for booking directly but loose enough Joe can contact them and formalize the booking on the phone. This way he develops a personal relationship with his clients even though he might never meet them in person!
Joe also wanted all of the information of the property to be above the fold – we deployed a tabbed interface. Each tab allows the user to see photos, find out property details like location, amenities and weekly booking rates
If by chance you are mesmerized by the Keys too, and decide to book with Joe after ogling the bright turquoise seas, please tell him we sent you.
Key Lime Vacation Rentals Website
Customer journey development:
Understand how the customer searches, lands, informs and decides and how our site design helps that process.
Website design & development:
Platform: WordPress
Conversion tools: form collection on web site (to client) and also to CRM
Key features: home page slider, mobile-first interface, booking form on every page and tabbed page interface to keep content above the fold
An About Joe Curley page to capture searches for people who are looking by his name.
Addresses on the property pages (unlike the booking sites) for people who are searching on addresses
Website security including form captcha, login security and 2FA admin security
Options available for this type of vacation home or rental home site and client:
Professional-class booking engines (multiple types to choose from)
Deposit option + link right from the booking form
Control all of your bookings from your own site (while keeping your VRBO sites separate)
Need help developing your own travel planning or property rental website? We can help you through training and development so you can manage your own vacation rental property website!