Just about everyone from your tech savvy kids, to your less tech savvy parents are on a social media platform of some sort. Even you, a business owner, take part in the daily ritual of scrolling through your feed and seeing what your customers and competition are up to. In this post, we show you how to create an effective and aesthetically pleasing social media feed for your business
In the past, we have discussed the importance of maintaining a social media presence and how you can use photography to ensure your product or business looks the best it can. However, something that is often overlooked is the importance of an aesthetic for your profile.
Dictionary.com defines aesthetic as "concerned with beauty or the appreciation of beauty" and well … we could not put it better ourselves! Having an aesthetic is all about the visual appeal of your brand, it's what your customers are going to see first and it can instantly alter the view people will have on your business. And your teen may have already said to you "Mom, I just love their asthetic!"
Color is Key
This seriously cannot be stressed enough. An aesthetic can be broken down into many pieces, but color is what stands out. Think about your business, what colors do you use? Are they consistent across the board? Ideally the answer to that question is yes.
Brands that are easily recognized are often well known for their look – think about Nike for example. The multi-billion-dollar athletic clothing brand typically keeps a stark palette, black, white, and a vivid orange. This is Nike's palette, and it has been for many years. By using the same palette across all channels (your website, Facebook, Instagram, etc.) customers will become more and more familiar with your brand and be able to point out YOUR company based on an image or color tone they see.
Unsure if color is really that important? Still thinking about adding a splash of baby blue to your color scheme even though you have never used it before? Think again! Science even backs up this fact. Inc. carried out a test and found that a whopping "75% of snap judgements about consumer products are based on color."  In short, color is important, determine your palette and stick to it, for longer than you think you should. If you're bored of your brand colors, your audience is probably just noticing them and recognizing your brand.
Know your brand
Knowing your brand is of the utmost importance and requires a great deal of self-awareness. If you are unsure of your brand than you are unsure of your target audience!
Who are you selling to? What is your "vibe"? These questions will help you determine what your brand is and what you represent.
Think about Monster energy drinks, they target young adult males and use dark imagery, monochromatic ads, and exciting music to appeal to their audience. You would not catch their marketing team bringing in poodles and princesses to their next ad campaign shoot because that is not Monster's "vibe"
By knowing your own brand, you can rediscover who you are selling to and what visual effects will work in your favor. What color matches with them? What imagery does your audience resonate with?
Plan. It. All.
This seems like a straightforward step in being successful in anything, but it holds uniquely true in this sense because planning out your social media will ensure you stick to your brand's aesthetic and keep your audience engaged.
Here at Marketing Acuity, we use the free planning tool Trello to plot out our own social media channels; perhaps you saw one of our posts and were linked to this blog! We use a palette of mint green, sea green, and a muted red.
By planning out our posts, we know what needs to be done each week and we do not need to worry about our aesthetic because it's so ingrained in our processes.
Utilize all your channels
Perhaps this sounds redundant but having an aesthetic on ONLY your Facebook or ONLY your Instagram is not good enough. Think of your business like a spider web, each facet of your online presence is connected and if one of those facets is built differently than the others your web presence is no longer sustainable.
After determining your aesthetic it's even more important to implement it everywhere. Redo your website, restructure your social media channels, make sure everyone can find you on any platform and confidently be able to say – yes, this is the brand I know from elsewhere.
Find Inspiration
Aesthetics are not easy things to build, but luckily for you all good brands have one. I have combed through many businesses and bloggers to find some excellent examples of feeds that use effective aesthetics– check them out below!
Lululemon
Ralph Lauren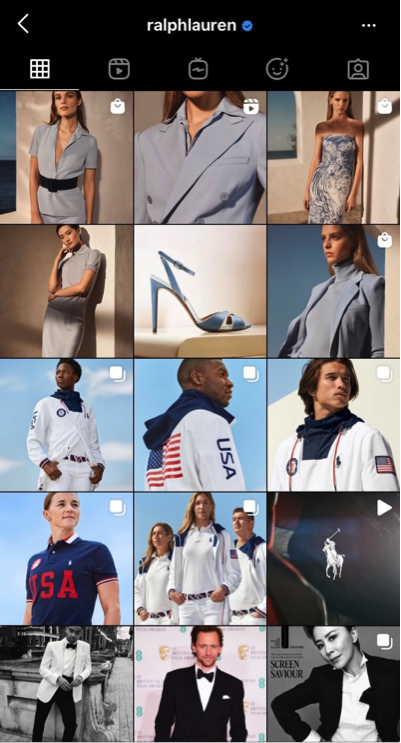 Etsy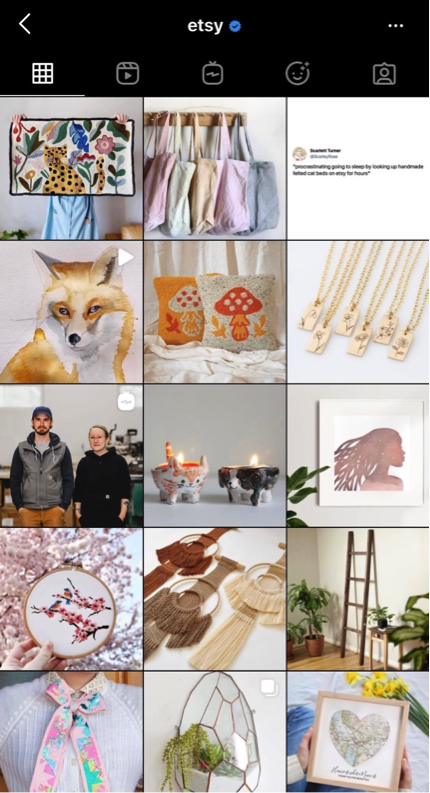 Versace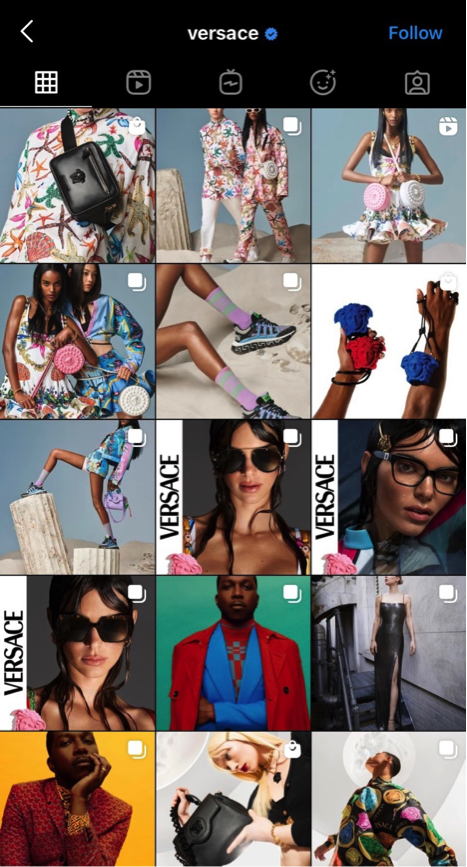 Nike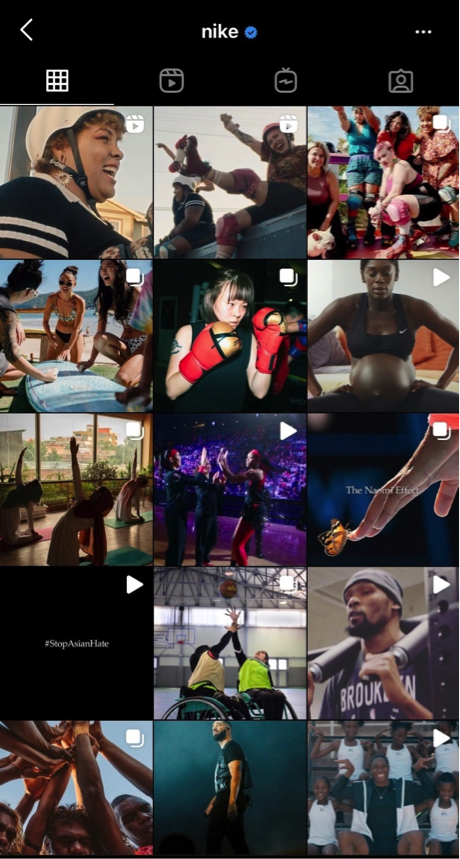 As you can see in each of these images, all brands have different aesthetics, and many are constantly changing! Ralph Lauren's colors may shift over time, but their feed is full of images that are soft and smooth, you can scroll anywhere on the feed and know it's a Ralph Lauren image based on the feel of the photos. Nike on the other hand centers its aesthetics around pops of color and people, all their thumbnails involve bright color, athletics, and the people who use their products.
Still unsure what the best route to take is as you create your own aesthetic? We'd love to help!
[hubspot portal="618356″ id="e0a2e18b-645b-481e-877d-afd8711fdb6a" type="form"]