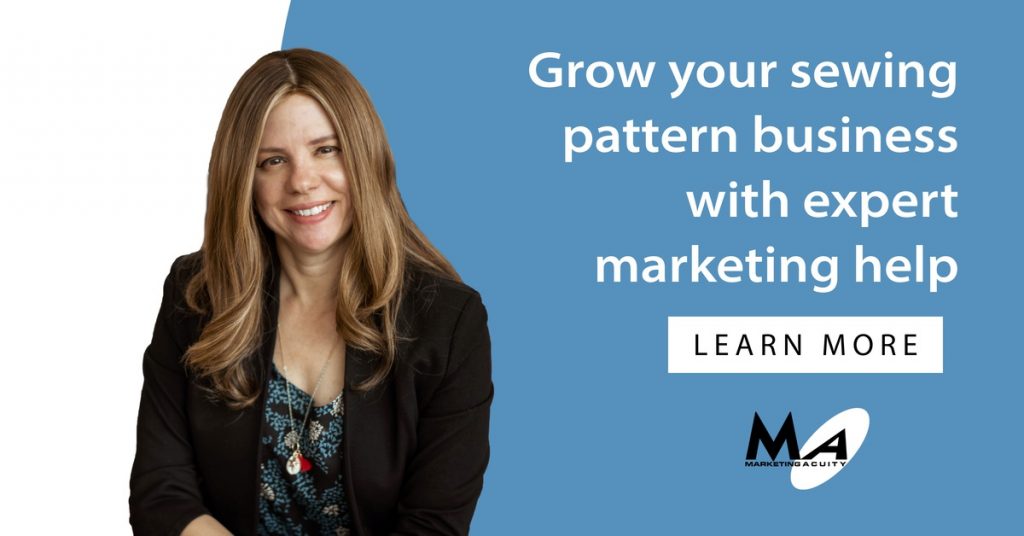 Build your sewing pattern & craft business with expert marketing help
Do you want to grow your business? Build that email list that consistently drives traffic and sales? Develop an amazing website and maintain it easily? Learn how to be confident on live video?
All of this is possible   – and you can succeed at it!
There has never been a better time to launch and grow a sewing pattern/online craft business than right now.
Sign up for our FREE one hour consulting session. We will plan as many ideas as we can generate – completely tailored to your business – in one hour!
Marketing Acuity works with e-commerce retailers in the sewing and craft industry with:
Social media strategy development
Digital marketing strategy
Facebook Group/community development, management
Social customer service
Website development
E-mail marketing consulting
Content development consulting and execution
I'm Ann. I specialize in training entrepreneurs to accelerate their marketing through expert coaching. I'm a startup coach with international experience working with lifestyle and craft brands, including sewing pattern designers. I help designers grow their businesses.  From pricing strategy, product and website review to how-to for the tricky things like lead conversions, SEO and video. And you get a lot of coaching and support along the way to success. I sew, knit and craft, so I am in a unique position to understand your business.
Want to know what is possible? How about 25-50% growth in your business year over year. How about 150% more revenue after just a few coaching sessions?
Build your creative business online with expert, patient marketing help.
You work with competitive companies?
We work with companies that, on the surface, are competitors. Believe it or not, most of the passionate community members in sewing communities cross over and love many independent pattern companies, fabric retailers and bloggers. They follow you because someone else followed you whom they like. And they're omnivores of good sewing patterns, fabric, advice and information.
"Collaborating with Ann, a passionate sewist herself, with consistent, precise content has significantly increased the traffic to my website. Her knowledge of marketing, the sewing industry and honing in on my target client has taken the task of keeping the constant flow of content off my desk and has given me more time to do what I need and love to do, and that is design and sew."

– Kim Collins, Designer, Ann Normandy Sewing Patterns
How focusing on the whole industry benefit the clients who work with us?
We don't want to slice the pie (market share), we are interested in making the pie a whole lot bigger! We recognize the efforts – collectively – as an industry, rise the already growing tide of people who sew for creativity, relaxation and the profound power of sharing their 'makes'. Let us help you see the industry in a new light – surrounded by collaborations and opportunities, not divided up into little wedges of market share. With libraries built on 'things' like sewing machine lending and serger and embroidery machine lending, your customers are coming into sewing from all angles. The explosion of online fabric and pattern 'clubs' (groups, flash sales, bundles, and stocking happy hour events) has transformed the industry. And it's only going to continue.
Each client has a unique offering of patterns. Very few pattern companies make the exact same pattern or have precisely the same brand ethos. And your customers want to buy from all of you.  Promotional strategies, new product development – all of these fall under NDA contracts and we respect these NDAs very seriously. For some clients, we are involved in assisting with projects like Facebook advertising or e-mail marketing consulting. For others, we manage live video, customer service and e-commerce services. For others, we work on content development consulting, brand strategy consulting and assisting with specialty services such as SEO for the sewing and craft industry.
Our credentials:
We began in 2001 working with a local fabric store, called Fabric Gallery in Williamston, MI, a 'destination' fabric store, until the owner's retirement in 2010.
Magnoodle – Social Media Strategy and Polyvore marketing consulting, 2013
Christine Jonson Patterns – Social media, digital marketing strategy & execution from 2013 to present
Ann Normandy Sewing Patterns – social media, digital marketing strategy & execution from 2016 to present
Naughty Bobbin Patterns & The Heroine's Closet– Social media coaching & website training (SquareSpace)
And others, including for some well-known and well-loved sewing pattern brands for whom we provide Facebook advertising consulting and general brand evangelism.
What does it cost?
It's affordable for the services offered, packages are tailored to each client and project-by-project consulting is available. Marketing investment is just that, an investment.
Ann Siegle has been sewing since 1980. Her first project was a denim wrap skirt. Since then, she's become an authentic personal brand sewist with a personal sewing blog that morphed into managing digital brand and marketing for Christine Jonson Patterns. She's widely recognized across top brands in the independent sewing pattern industry as an informed, enthusiastic and passionate marketer. She's a brand-evangelist for each of the brands she represents, and is able to weave in and connect companies and products (such as fabric retailers and sewing pattern designers) both online and offline.
I made what I'm wearing in our ad!
If you've gotten this far, the jacket I'm wearing in our ad is the Christine Jonson Patterns Drape front jacket in aqua ponte knit from SpandexHouse in NYC and the tee is the Scout Tee by Grainline Studio in a printed cotton voile from Seams Fabric in East Lansing, MI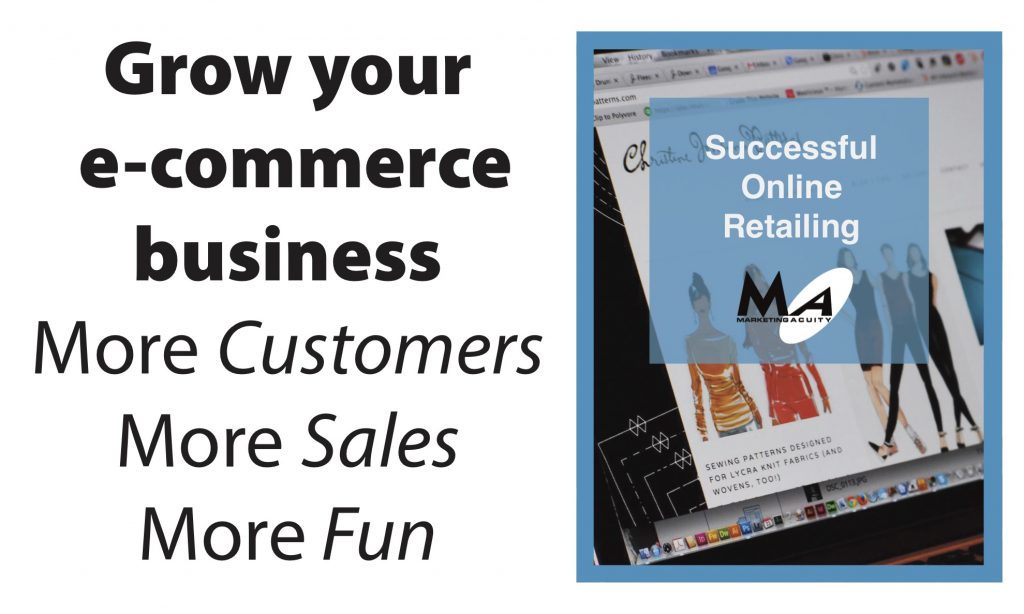 Our vision of the sewing and craft industry
We're not alone in our vision of craft as community. Retailers large and small are also looking at this model. What does that mean? It means, right now, that each retailer is crafting a community of their own – where we seek to be different is to help companies think meta community. Of tapping into user generated content to broaden the exposure of sewing and crafting to others who have not yet taken up the passion, fostering linking and sharing across many groups, retailers and designers. We know that a customer wears her makes from several companies, all at the same time! We all help her look good, and our business is helping you get your patterns and fabric in front of her so she can be the most creative version of herself that she dreams about!
What we're developing
Sewing business broadcast – monthly live video on social media discussing the business of craft and how we can improve it.
An outsider's focus on marketing from outside the sewing and craft industry. There is too much focus on competitive and pie-slicing in the industry, mainly because industry players are following a playbook that's decades old. The modern playbook is one of collaboration, not competition, of community, not isolation. Each company that plays in this way gains more than they lose by sharing information, ideas, and even referring and loving their competitors.
Supporting local retailers and libraries in their efforts. The battle for sewing and craft will be won on the street, and nurtured online. You can love an Instagram post and want to make something, but the first place you're going to turn to is help in learning to sew on a physical machine, right in front of you. The barriers to entry are going away with libraries of things that are lending machines, stores that are lending time and space, not to mention inspiration and instruction. Our local retailers and community spaces (although considerably fewer) need to become "third place" destinations – a place where the creative crafter hangs out with her friends and shares camaraderie as well as a pincushion.
Stay tuned. We think it's going to be a beautiful place to be! Want to join us?