If you can see your business goals, it will be easier to achieve them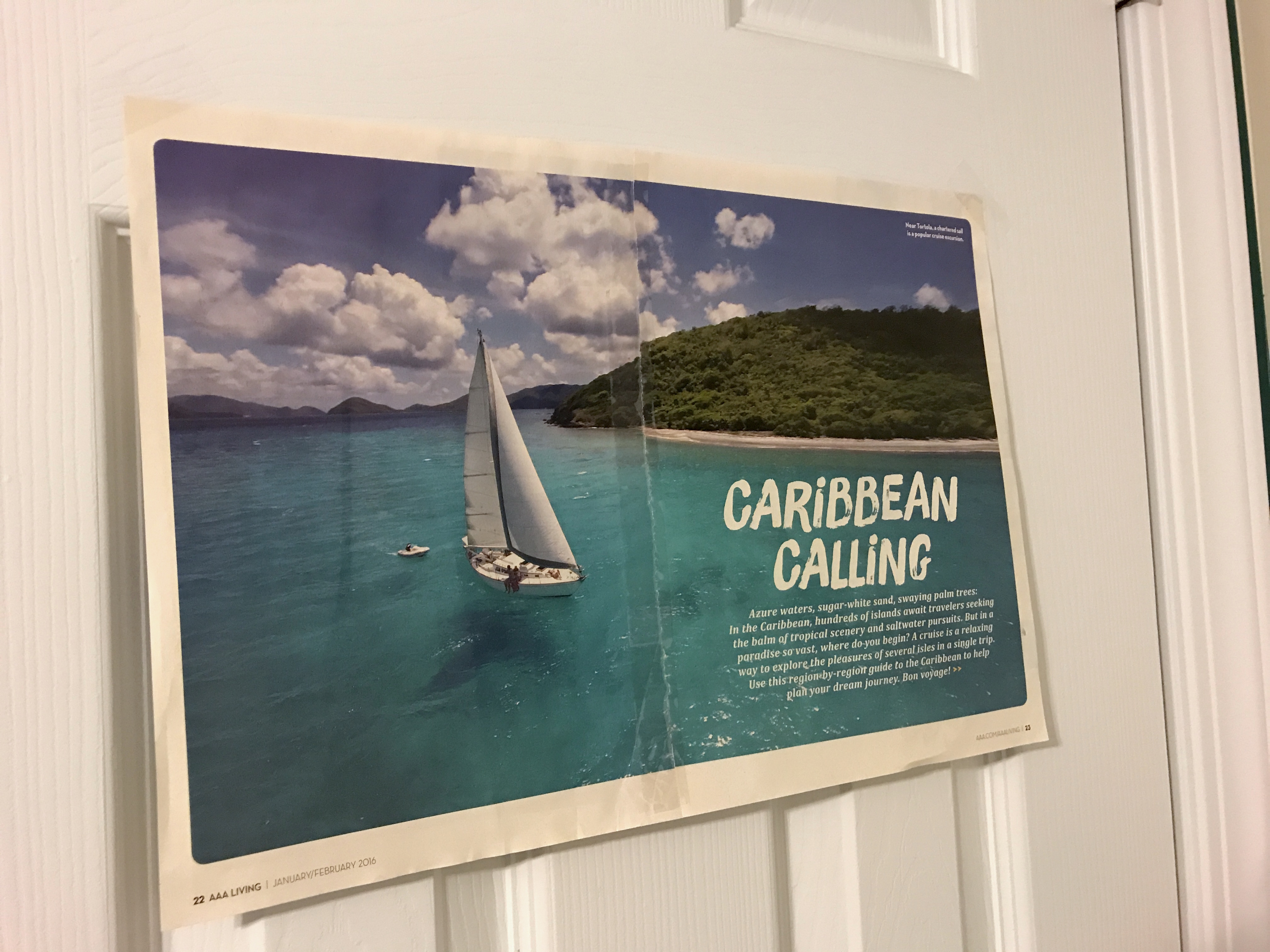 In 2016, I cut out and taped a magazine spread from AAA Living magazine to my home office door. Which, after the laughter dies down a bit, I'll explain. The photo is of a 38-ish-foot sailboat sailing over crystal clear blue waters. You can see the shadow of the boat on the sand UNDER the water. It's a magical thing. The title of the article is "Caribbean Calling" and it's associated opening paragraph invites the reader to book a trip to the Caribbean. The photo is from Tortola, B.V.I.
I had this photo (taped together along the spine of the magazine clipping) tacked to my office closet door for two years before I made a single phone call in June of 2018. That phone call was to Sunsail, a charter operator out of the B.V.I Moorings/Sunsail is owned by TUI Marine group. I once worked for Sunsail, long ago, before their acquisition by the Moorings and by TUI. When I made the call, it was to book a one-week charter vacation in the B.V.I. As I made the call and handed over my credit card number for a deposit, I had an almost otherworldly experience. I felt, for a moment, outside of my body. This happens on occasion when I do something so authentic that it scares me.  Or it scares me to do something so authentic.
If you can SEE your goal, you are much more likely to achieve it.
What if you treated your business goals the exact same way? What if you pinned up a photo (or a dozen) of what success looks like to you? Maybe success is being home to cook your family dinner; pin up a pic of that scene! What ever helps you define success (not a stock-photo business image of a great meeting), the END result for you, envision that.  The important thing is that it's the goal's result, not the goal itself. I did not pin up a photo of the numbers I needed to achieve to fly to Florida (or the B.V.I) I tacked up the actual place I'd go if I made my numbers.  This is why sales program motivators include cruises to the Caribbean for top performers. It's easy to envision that!
The importance of making your business work for you in the way that it satisfies your life goals cannot be overrated. Business is hard. I've seen it not only in my own company but in those run by my clients, friends and families too.
Most business owners have trouble envisioning the long-term goal that they want their business to achieve because they are focused on external metrics (KPIs). These are the signposts on the way to your goal, but they are not your goal. Your goal is whatever the LIFE experience the business gives to you. At the end of the day, we all live for the people we love, the places that envelop us in comfort and care. We do not live for our businesses or our work.
When I talk with clients about business goal setting, we're usually dealing with "what sales number do you want to see from these efforts?" but what we really should be doing is going much deeper and asking "what life goal do you want your business to fuel?"
In this quarter of planning articles and worksheets, in a season of fresh starts and preparing for 2020  – a new decade! – its easy to get mired in Excel spreadsheets and Trello calendars. But I invite you to take a good hard look at what kind of life you want, and how your business satisfies that life.
Because we all love worksheets:
Read about our favorite planning tools for business  – and how to use them (article)
Because you need inspiration:
Using Pinterest to plan your business goals (article)
Because you might need a plan: