Two of the most popular Open Source Content Management Systems are Drupal andWordPress. Which should you choose for your site? There are lot of considerations that go into the right platform: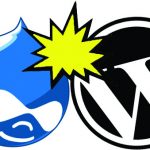 What kind of organization are you running?
A smaller organization would find WordPress an easy and affordable option to set up. It's a DIY project for a reasonably tech-savvy business owner, but flexible enough to expand as the organization expands. Out of the box, and with extensions and modules, WordPress helps a small organization add big features to a web site.
A larger organization, one that has a lot of users, needs custom features, or has higher security needs would find Drupal a good experience. Sites for certain industries where WordPress is NOT advisable because of security issues including: banking, financial services, some healthcare, and even e-commerce (although selling a few products online on a WordPress site is OK, especially if you're using a 3rd party processor like PayPal.) Any site that has to credential a large number of uses would find Drupal a better fit for it's extensive roles and permissions controls.
What do you need to do?
A simple site that communicates what your organization is about, allows blogging, has good social integrations is a perfect candidate for WordPress. A site that needs a custom registration application or extensive e-commerce is better suited for Drupal. As an example, professional service businesses do well with WordPress because they are looking to engage users with content and information.
Is there ever a case-by-case reason to choose one over the other?
Yes, we have chiropractors on WordPress and Realtors on Drupal. There are exceptions to every rule – in the case of the chiropractor, no data is changing hands, the business presents services, engages their audience by blogging good content and has a social presence embedded into the site. The same goes for the Realtor, same features, same objectives.
How are they 'under the hood?'
These two share some aspects of development that are a departure from Joomla, for instance. Both use a categorization/taxonomy system for organizing information, rather than a structural system based on hierarchy (categories and subcategories) like Joomla. WordPress has a separate administration area similar to Joomla; Drupal has both on-page edting AND an admin area.
How secure is your environment?
WordPress has an easy-to-install module and template installer like Joomla, so add-ons can be installed easily. But it's module vetting system is not as robust as Drupal – and sometimes modules can contain vulnerabilities that are not updated and removed, thus causing security problems down the road.
In addition, the sheer volume of WordPress sites makes them a vulnerable target for hackers. Hackers like to attack the weakest link with maximum impact – choosing the more popular, and easier to hack WordPress makes sense (although no system is completely secure.)
As for ease of use, Drupal is custom built for each individual client, so the simplest interface is often available on Drupal because only what you need is developed. With WordPress, you'll be adding complexity with add ons, short codes and other tricks that get WP sites to act more businesslike.
Evaluate these content management systems in the context of your business, your size, the functional requirements you need to build a responsive, content-oriented web site. No matter the type of site you do end up building, you want to start with marketing; download this free guide to plan a web design project that will generate ROI!