Your business's brand is made up of the image and identity.
Image is how others see your business and the practices.
Identity is the actual reality of your business and why you do it.
In an ideal world, every business would have a paralleled image and identity, but it can be challenging for the average small business owner to achieve this due to limited resources. Here are a few things that you can do to better optimize your brand's presence with your consumers.
Innovate and be willing to make changes.
Competition is fierce out there. Depending on the industry, it can be frustratingly difficult to get the name of your business in front of your target market.
Social media algorithms change, people become desensitized to ads, more and more businesses go digital. So what can your business do to create a strong presence online?
Invest in brand building efforts and be knowledgeable.
What you need
Investing in your business can come in the form of time, attention, or money. This could even mean reading a marketing how-to guide or hiring a professional to set up your business.
All businesses need to be clear on these three things:
What makes you unique?
What sets you apart and why people should choose you over others
Who are you targeting?
Being as specific as possible makes it easier and cheaper to target
What is your mission?
What you do and why you do it
You need a logo…
Your logo should include a name that is easy to recall and may bring some awareness to the function of your business.
The actual design of the logo can be tricky. It should be distinguishable, easy to implement into marketing products (t-shirts, websites, merchandise), and gives a good impression to your potential customers.
It may be smart to hire a professional or someone who has experience in logo design. Your logo needs to serve as an asset, so hiring someone who specializes in this design could add a lot of value to your business. At the very least, do some research into making a logo and look at some Pinterest boards for inspiration.
And you need a voice…
This is not only what you say, but how you say it.
Finding out what you're going to say can be a challenging task. It should be consistent in the overall theme of your brand and the tone in which want to communicate with your customers.
For example, a healthcare software provider is going to want to speak to their customer base professionally and show them that they have expertise in the healthcare field. A casual retail business may be more relaxed in their language and tone on social media to create a friend-like rapport.
Whatever you decide to say and the tone in which you carry your business, it needs to be genuine and different from other business like yours.
Educate yourself
Take a look at what is working for other businesses like yours. Are there ways that you could implement this into your brand?
Be knowledgeable about business trends in…
Your geographic area
Your target market
Your industry
See what things are working for others and experiment until you find the right marketing mix. Try a social media platform you have never tried, make changes to your website, start a blog. (link some marketing acuity blogs here). Find what works, and optimize and adapt it over time.
Work on the goodwill and customer service
Creating a positive experience and enforced standard of quality for your products helps your business establish a brand in which people positively identify with.
This is important for every business to do when building and maintaining a brand. There are high expectations for business to provide a quality product in a quality fashion. Give the people what they want and give it to them in the best way possible. Keep your quality standards high, and people will be excited to return.
When a business first starts out they rely heavily on word-of-mouth marketing. Word of mouth marketing is easy, effective, and cheap. This can be achieved when people heavily identify with a company's mission/purpose. One way to do this is to focus on making strong relationships with your core fan base. In turn they will tell their friends and family.
Offering discounts and low investment opportunities for people to first interact with your brand can be effective in gaining new customers. These can be discounts or small promotional items that would appeal to your target customer.
I am not suggesting that a small business needs to give away their products in order for people to find them and enjoy their brand. I am suggesting that you find a product or a service that you can put your business's name on that will add value to your consumer. This can come in the form of a blog, a downloadable resource, or sample of your product. Even if they are small, they are always appreciated.
Case Study: Blue Owl Coffee (Coffee shop in the Greater Lansing area)
The image of Blue Owl: a classy, unique coffee shop with quality service and products
The identity of Blue Owl: a place for people to connect and communicate over high-quality coffee in a welcoming environment
What makes them unique?
The products are created with high-quality ingredients, some even sourced locally, and the only other coffee shop in the area are chains, free entertainment in the evenings (live music)
Who are they targeting?
Students and locals who value coffee and open conversation
What is its mission?
To create a neutral location where people of all different walks of life can meet and collaborate
Their logo- simple, classy, distinguishable to locals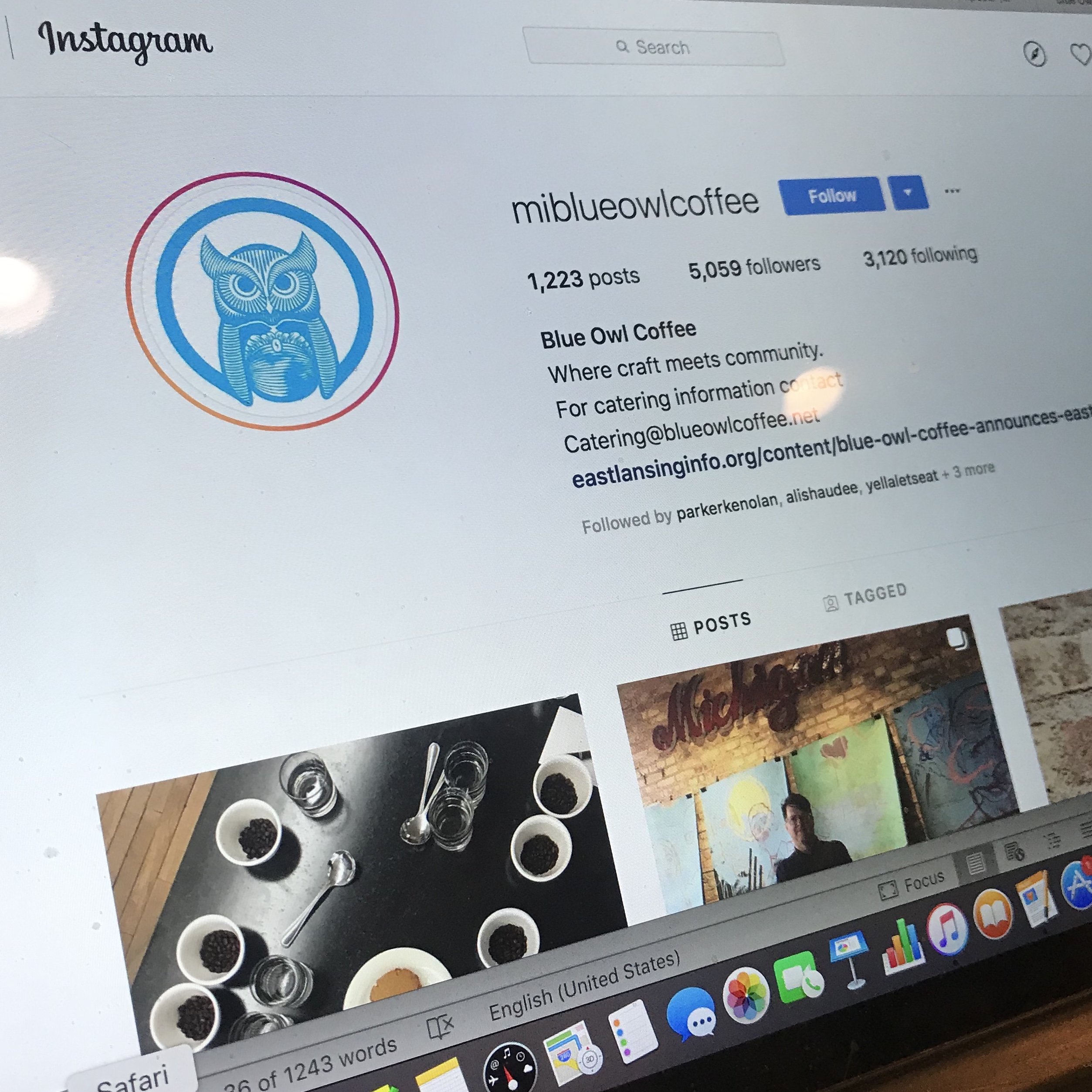 Their voice: They have created an environment where people can go to meet friends, get work done, listen to live music, or to unwind. Blue Owl's voice is centered around positivity, healing, and inclusion. No matter its utility, there is a place for everyone there. The friendliness of the baristas, to the lively décor, you feel welcome when you walk in to get Blue Owl coffee. As soon as you leave you to want to come back.
Blue Owls goodwill and customer service cannot be compared to the other coffee shops the downtown area of East Lansing, where the only coffee establishments available are chain options. Their barista's offer a warm expereince to new and expereinced coffee drinkers. Offering suggestions tailored to ones tastes to educating people on their menu options, the entire exchange is personalized to each individual.
Since opening in Reo Town of Lansing, they have grown a die-hard fan base that provided them their word-of-mouth marketing from the beginning. This momentum allowed them to open a new location not even 15 minutes down the road. Their fan base followed and grew.
Blue Owl has involved themselves with multiple organizations on Michigan State University's campus, allowing them to get right in front of their target audience, while simultaneously supporting the community around them. They offer free coffee for these organizations to distribute, and $1 off coupons for everyone to have. They've integrated themselves into the university community in a matter of months and it has molded how people view the coffee shop. Students are lining up to support this local business because of the overwhelmingly positive relationships and positioning they have built.
Building your brand can be challenging, time-consuming, and may require some financial investment. It will require making changes, experimenting, researching, and commitment to your business. Here are some free resources we offer to make this journey a little easier for you.