Once upon a time, doctors, nurses, clinics, and hospitals had to settle for whiskey and cauterization for the latest in sterilization. Thankfully, things are different and there is now no shortage of advanced healthcare technology companies marketing their latest products like 3D printers and MRI machines to the medical community. But while the innovative spirit of healthcare technology is reflected in its products, its industry's hesitance to adopt digital inbound marketing and sales takes it a step backward. Here's how to keep your healthcare tech business ahead.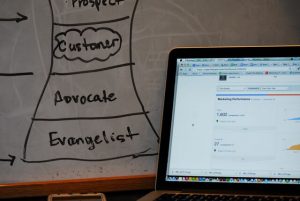 To whom is your Healthcare Technology a Worthy Investment?
Medical technologies can range in financial scope from modest software suites for private practices to enormous investments that outfit an entire rehabilitative hospital wing with equipment. Each healthcare tech company has its own target market of potential buyers, but before committing to a marketing strategy, it should consider a concept that is central to inbound marketing: Buyer personas.
Two Examples of Healthcare Tech Buyer Personas
Office Managers for Doctor's Offices
Office managers assume many of the financial responsibilities of private medical practices. Subsequently, they will be among the first people a sales team will talk to if it tries to directly contact a doctor's office.
Although doctors might end up with the final say in major purchasing decisions, their office managers can have the most insight on the practice's finances and working dynamic. Even if they may lack the specific training to be aware of the medical benefits of your product, the manager's input tends to carry the most weight before the final decision is made. After all, they might even be more familiar with the office's needs and limitations than the doctor who spends business hours with patients, Dictaphones, and medical records.
Hospital Administrators
According to an October 2013 study by Google on the purchasing habits of 700 hospital administrators , 71 percent completed purchases to replace used or outdated technology; 42 percent completed purchases to fulfill user requests from staff, most notably physicians.
It should be self-evident that administrators will pursue the safest, most reliable healthcare technology products for both staff and patients. With a significant chunk of the hospital's budget at their disposal, it can also be assumed that these administrators aren't going to be careless shoppers.
While the same study cites that nearly half of hospital buyers are looking to lower costs, 3 out of 5 participants also wanted to improve clinical outcomes. It's also worth noting that a 2013 report on hospital spending released by the Centers for Medicare and Medicaid Services projected an annual average spending growth of 6.1 percent from 2016 through 2024.
Where Does Inbound Marketing and Sales Come In?
Inbound marketing relies on creating educational content that attracts visitors through search engines. In lieu of how academically driven the healthcare industry is, this means that many of healthcare
technology's buyers have done their homework by thoroughly researching products. They know what they are looking for.
This puts them toward the very bottom of the sales funnel where your sales team comes into play. When taking on a lead, conversion may hinge on a sequence of successful conversations that satisfies any "gatekeeper" personas (i.e. office managers, receptionists, hospital doctors) along the way of the buyer's journey and the final decisionmaker. As opposed to the process revolving around hospital administrators and inbound marketing, sales teams approaching doctor's offices with the more traditional cold calling approach will likely encounter more gatekeepers who may not even be aware that their organization has an existing need for your product.
In any case, a major inbound marketing and sales rule of thumb is to avoid talking about your company and product until you have a confident grasp on the wants, needs, and challenges of a potential client.
Consider the Following Questions (and Expect More): 
Do Ask:
Are there any outstanding problems with your existing equipment?
What are some challenges that your office faces (relate this to your product's purpose)?
What is your position in the office and what is your day normally like?
Where do you get your information when researching for the office?
Who have you bought medical products from previously and how have they performed?
Prepare to Be Asked:
How much does this cost compared to similar products by other companies?
What makes this product worth the high price tag?
Do I need to specially train anyone or bring people in?
How can I be sure your company will keep my product up to date (and other customer service questions)?
Do you have any studies or research that prove your product's success?
These questions are just the beginning because there's going to be plenty of skepticism and discerning where these come from. Reflecting on his experience as a healthcare sales consultant in a guest blog for The Healthcare IT Guy, Steve Carbonara offers a helpful, more holistic look at how to sell in the industry with an overview on selling a product into a hospital. 
Where to Start
Make your Website Mobile-Friendly – The previously mentioned Google study concluded that hospital buyers conduct their research through mobile phones (50 percent) and tablets (27 percent). While the most meaningful dialogue may occur in person between consumer and vendor, it is worth emphasizing how meticulous healthcare tech buyers are when researching products as they venture down the sales funnel.
Creating a mobile-friendly website with a web development company or digital marketing agency can cost money, but it is very important to be as digitally accommodating for visitors/potential buyers as possible. And it's not only polite, it's also crucial to achieving a high SEO ranking. 
Optimize your Web Presence – Favorable placement on search engine results is quickly becoming a very universal end goal for marketing teams. This will only encourage stiffer competition on the digital front lines. Want to know how to keep up? Here are some bullet points that can be addressed outside of consulting someone who is fluent in web coding:             
As mentioned previously, have a mobile-friendly website for your business or your ranking will be punished
An inbound marketing campaign often features a strong, consistently posted blog
Design your website in the most user-friendly manner possible. Avoiding elaborate dropdown menus, maintaining a consistent color scheme, and opting for visual content over elaborate text are just some of the design approaches that will leave smoother waters for visiting web surfers
Include a modest amount of specific keywords in your site's text and metadata (i.e. photo labels/descriptions); think about how a computer can lock-in on your written content
Create meaningful content that attracts website visitors and encourages social media engagement 
Start Creating Video Content – The marketing world is becoming increasingly aware that video content will dominate the web content landscape in the coming years.
So how can a healthcare technology company prove its worth to potential buyers? The same 2013 Google study that explored the purchase decision making process of hospital administrators observed that all 700 of its participants watched online videos of prospective products; 68 percent watched to compare products while 63 percent watched products being used in procedures. It should be fairly obvious that investing in some video production will help draw some serious leads.
Want to learn even more about how inbound marketing can benefit your healthcare business even more? Download our free Inbound Marketing Guide below!