Planning live social media events at a trade show, conference or workshop:
Planning out a weekly social media calendar is a fairly easy task (blog link to social calendar/landing page) that involves crafting messages and scheduling them on your social platform accounts. Covering an event such as a trade show, conference or workshop takes some prior planning, and fancy footwork on the ground.
We planned five days of coverage of a client's annual conference in Miami. The resort property's conference center is a small size center with modular ballrooms and break out rooms. I'd be covering events from 6:30am to 10:00pm and I was flying solo on the social media front. With a team of one on the ground (and a team of two back at the office), we had a lot of work to do.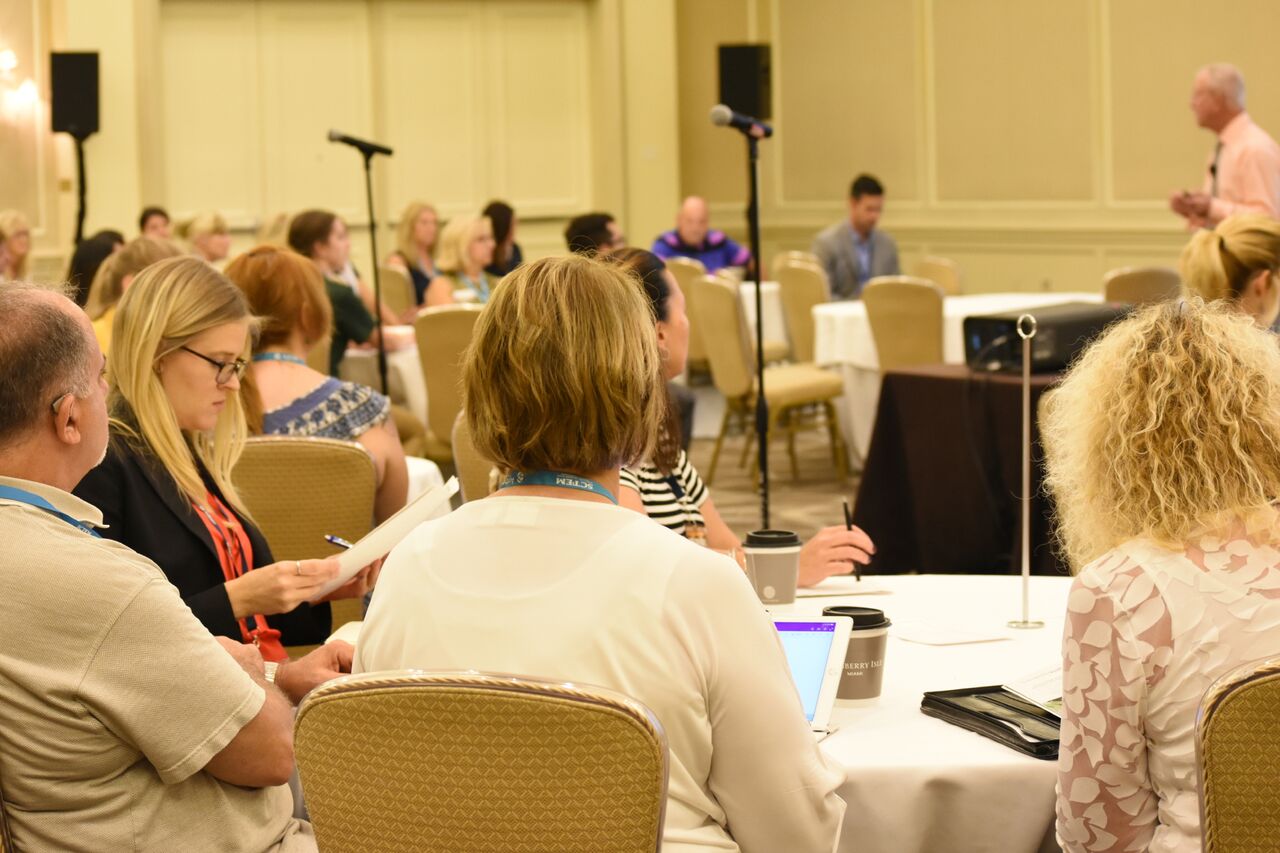 The client in question – a collegiate travel and expense management organization – had a small following on Twitter, a Linkedin group that was not very active and a brand-new Facebook account that we set up five weeks before the conference.
Our goal was to gain new followers and start engaging with members and sponsors. We recorded pre-event follower and engagement metrics so we'd have a baseline upon which to measure success. Our approach was in four parts:
Build an audience
Plan a schedule
Execute
Analyze
Leading up to the conference, we had a heavy use of e-mail (the preferred method for communication among our members), so we promoted the use of our social accounts to keep tabs on things happening leading up to and at the conference.
We also followed all of our industry partners, sponsors and board members with accounts on Twitter (not all have Twitter accounts), and we invited board members to like the organization's page on Facebook. We further instructed our team back at the office to also like the page, as well as all the posts that were shared on social leading up to and at the conference.
We knew that sponsors would like their mentions and they did so. We also knew members active on social would too. This boost of likes helped engagement both before and during the conference
The live event plan was set up much differently than our weekly plan, which maps out social channels on one axis and days on the other. The daily plan maps out social channels on one axis and five columns of information on another.
Execute the plan:
Put on some comfortable shoes and plan to carry heavy bags. That's not a metaphor! Our equipment list included a MacBook Pro, an iPhone7, a Nikon D7200, a Slik Tripod with a MeFoto phone mount, two lavalier mics (corded and cordless) and three DSLR lenses. We carried all power cords, plus battery booster packs and we stopped regularly at the organization's field office in one of the meeting rooms at the conference to recharge.
The execution plan was on the MacBookPro – there are pros and cons to this; it could be edited on the fly (Google Docs) but having to open a laptop to find out where you're supposed to be next (or what you are doing) was challenging. I found that a printed copy of the agenda really helped. Further, a printed copy was critical for ensuring we spelled speaker names correctly and used the same titles as the presentations listed as we posted.
The plan was set up to have activity slots built in 15-minute increments with one larger break built in during the day. The break was essential. Being "on" and capturing things at times when attendees were relaxing (such as meals with colleagues, receptions and refreshment breaks) is hard. You're the last to eat, or you're fielding a camera in one hand and a coffee (or a beer) in the other. By the fourth day in, exhaustion had set in, and I took a 1 1/2 hour break, with zero technology (while it charged up, awaiting the evening's activity later.) Keeping yourself focused is critical, and taking breaks allows you to do this. We did a fabulous job of recognizing sponsors, and they were very engaged with the organization on social (and in person) so that boosted our social effectiveness.
Use your tripod as a stick to get the camera up and over the attendees!
Many use a selfie stick for this. I never used a selfie stick in selfie mode – this crowd is comprised of a lot of introverted expense management professionals and more extroverted travel managers on one side and exceptionally extroverted supplier sponsors on the other. It's a very intimate conference with just 170 attendees (and assorted guests and add-ons.) But people quickly figured out that I was the photographer, and when I appeared with camera in hand, they scattered like leaves in the wind! In addition, selfie mode implies you're part of the scene, when I am most definitely behind the scenes in this organization.
Part of the responsibility on this gig was taking photos to be used in the organization's future marketing, including conference marketing and web site use. We took a lot of 'house stock' images that we can use again and again. Photos such as close ups of people taking notes while sitting at banquet tables always works regardless of the next conference location. Same, too, with panelists on a dias; these usually work well to showcase the type of experience that attendees next year can expect.
What went well:
We got the shots! All 500+ of them, plus two dozen videos and at least the same number of live videos. When all was said and done, we documented many hours of the conference while not giving away the content for free. We kept to the schedule and captured the event both in experience and excitement.
What could we improve:
More use of the extra lenses and flash attachments we'd brought – when you're dragging heavy gear with you, you'd better be sure to use it or leave it home next time. With three lenses, the most useful was the zoom lens. I could focus on people and details from across the room without them noticing.
We should do more live interviews. Our members were so busy engaging with each other, that we often didn't interrupt. Next time, we'd like to do more member interviews on video.
Use an iPad for schedules: having an iPad with Google Docs on it would be key for having a lightweight tool to tote around and still have a completely live and editable schedule to be able to tweak.
Engagement results:
Page followers on Facebook jumped 50%. Post engagements were up 165% and reach was up a whopping 4,503% for the period around the conference and just following. For a brand-new account just five weeks prior to the event, this was a huge success.
On Twitter, tweet impressions were 10,800, up 385%, profile visits of 530 were up 138.5% and the organization received 14 mentions and gained 16 new followers.
We're not done yet. We'd like to connect to every member that attended the conference (on at least one of the social channels they interact with.) We'll use our social appeal to put content on social media and promote that content via e-mail. This will encourage those that haven't yet liked the organization, to connect to see the content.
The result:
The proof is in the pudding. Or, in this case, the gourmet rice krispie treats artfully dipped in chocolate served at the 3pm snack break on Tuesday. We captured those and all the happy faces of the conference in a multi-day live social media event. For the folks back home, they have a chance to see how the organization operates and what to expect from next year's conference. The organization has a huge library of images and videos to use throughout the year on web and social media. Social following and engagement is up and the organization continues it's social media efforts (on a weekly schedule.)
What you can do to engage your audience on social media at your next workshop, conference and event:
Build an audience: Email your audience prior to boost social follows
Plan a schedule: use a live document like Google Sheets to manage your schedule
Execute: carefully plan gear, positioning, and other details before you head out. Wear comfortable shoes. Think long term and capture more than you think you will want.
Analyze: come back ready to continue the work that members engaged with the most. Understand what resonated and keep up the good work
Managing a large, live event across multiple days takes planning, a good bag of gear and comfortable footwear. But the results will boost awareness of your organization and engagement with your members significantly. Hiring a social media consultant is a smart option if your team is small or you lack the skills, gear or expertise to do it well.
One way that you can stay on top of things and keep your social media campaign organized is by using our social media planning template. We actually used it for the SCTEM conference and it was a a very helpful tool, so be sure to download it today!