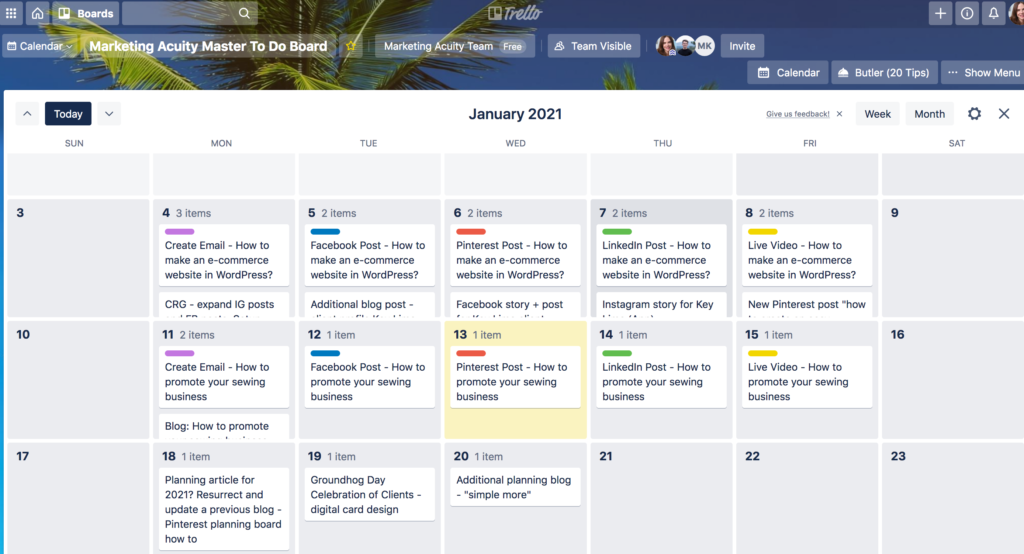 Trello is especially suited for managing digital marketing calendars because of this card flexibility. Trello's based in Kanban style of project management (think sticky notes on a whiteboard.) We like the Trello card and board interface, and it's ability to support visual items in a to-do / task format.  Agile teams often use Kanban as a way to keep many people moving on large, complex projects, by breaking down individual tasks into cards (sticky notes.) If your desk looks like mine, you might like Trello too!
We've set up a board (a test board) showing some examples of how you might be able to use it for content calendar planning. To prep for setting up a board in Trello, gather the following information: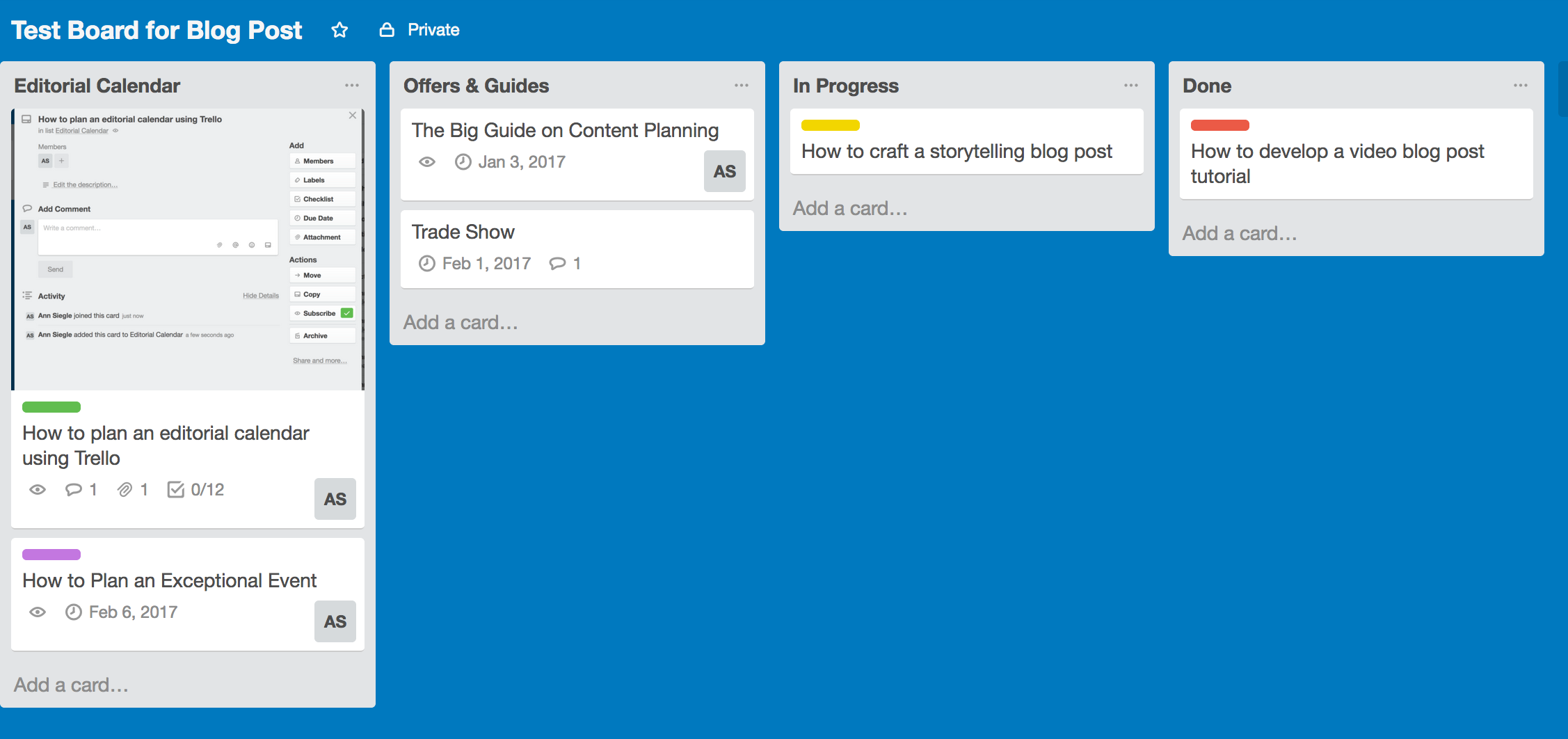 Identify some key marketing information:
Product release dates
Marketing campaign details
Your top keyword search phrases
Then, plan out your content calendar in Trello.
Create one Trello list for Editorial Calendar, one for Social Media (either by platform, or in general)
Create one Card for each blog or social media post
Use the keyworded search phrase in your blog post title (and make it the card title)
Within each blog post card, add a checklist (you can copy them from other cards by duplicating them) so you have the same process each time
Include sketches or ideas of graphics you want the designer to remember (even if that designer is you, in the case of me!)
Assign it to a person – Trello will notify them via e-mail
Add a due date- – Trello will notify you of upcoming deadlines via email
Add a color label – in this case, we've labeled them by importance – red being hot (before it was finished), yellow being medium and green being normal. But you can also color code by product line (all purple for one product line, all green for another, for instance) or by topic group (all red about content marketing and all blue about social media marketing.)
Include updated notes when you have made a change to let other team members know – they'll get notifications in their e-mail in box that you've updated the card.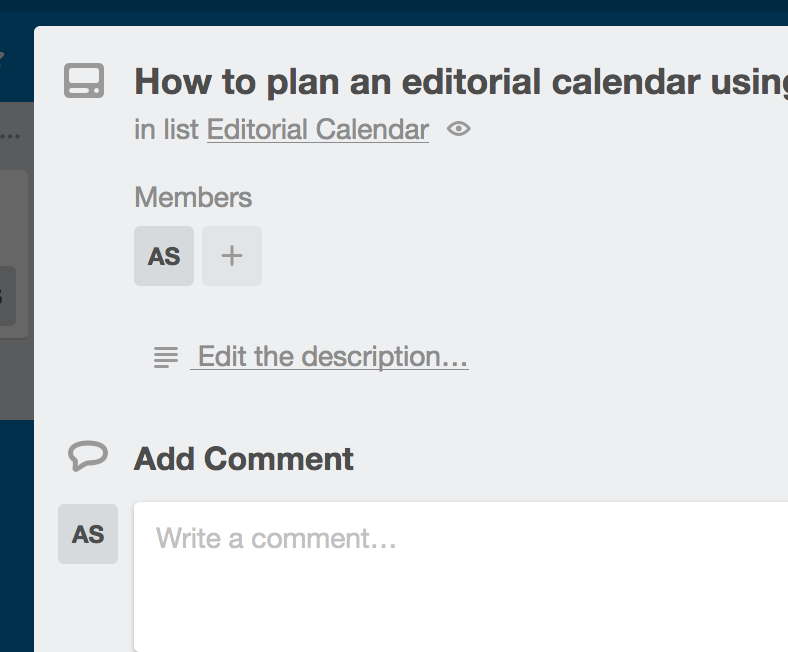 Once you have planned them out in Trello, keep it open or make it your default page on your browser so you see it daily. Often, we get sidetracked, and Trello can help jog your brain to get back to work quickly if you see your task up top. Don't be afraid to drag around your cards based on what you're working on, not necessarily by deadline, as Trello will still remind you with reminder icons that change color when you get closer to the deadline.
If you add the Calendar power up, you can switch to calendar mode, dragging cards on to their due date or their start date as needed.
Plus, you can attach everything you need for a particular post, including images, documents, and have discussions with your team or approvals within each individual card. Once complete, you can archive the cards.
Top Trello digital marketing organization tips for teams:
Use checklists within cards

Tag  your colleagues or staff
Images associated with that post
Discussions and approvals with your team
Attach documents, Drive links and Dropbox links
Move them around on a calendar in Calendar mode (power up)
Trello's flexibility lies in seeing different project tracks at one time, and moving the cards – or tasks – around really helps to manage time and ensure your team is working on the critical items. It's easier to use than, say, MS Project, it's free and we argue, a lot more fun to plan content calendars (and stick to them.)
Some clients will often have large boards with a lot going on. Feel free to move your lists around as you work with your team, keeping the hot items on the first screen as much as possible. Set reminders and assign to people so they get an email reminder to go do what it is they have been assigned them to do.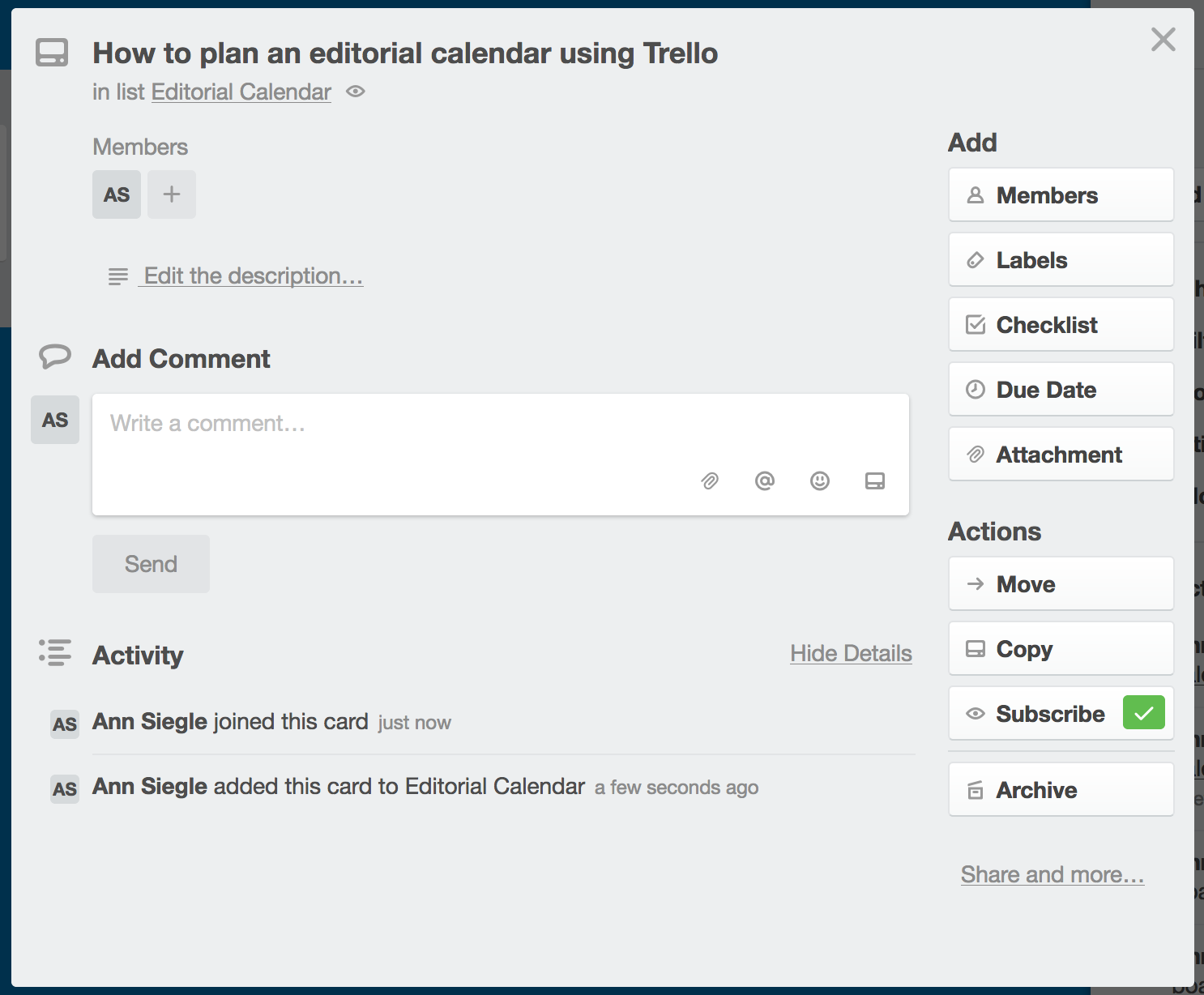 Trello's checklists are great for documenting process that can be copied and pasted over to new boards, thus creating consistency for your team.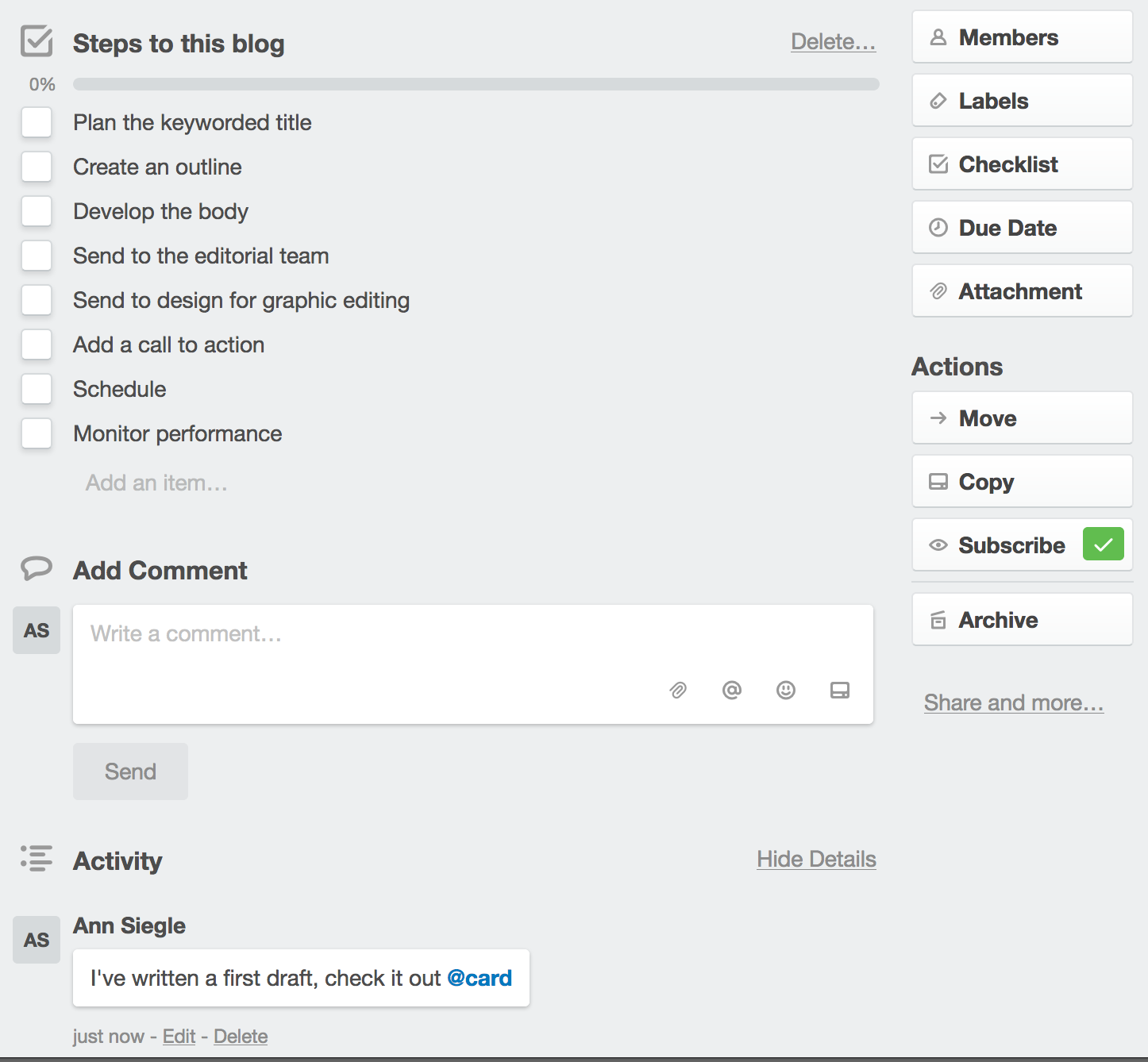 The importance of blogging and posting regularly can't be overemphasized. We see it with every client – content drives traffic and traffic can be converted. Conversions can be nurtured to become customers. Customers can be nurtured into evangelists. Your business is found on the web by the things you have written on your website! You can't be found for the things you don't say!
If you're new to blogging and need to know some tips to get started on creating better blog posts, check out our blogging checklist.