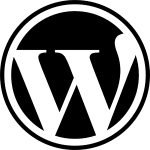 VS.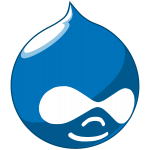 Second in our series exploring the differences between content management systems, we're exploring WordPress versus Drupal. Which should you choose? In part, it depends upon who you are and what type of organization you are managing a web site for.
First, a bit of background.WordPress began as a blogging platform. It's ease of use to create free blogs (via wordpress.com, not wordpress.org) was it's chief appeal. But of course, a blog platform for a small company could also be a web site, and developers began extending the software. Plus, WordPress.org, the open-source, install-it-on-your-own-server version (also free, except for your own server costs) launched even more business-sites-plus-blogs than ever.
Drupal was and has always been the choice of developers. So the appeal of these two platforms is focused on very different audiences – the DIY-er looking to set up their own web site, versus the developer looking to set up a web site for a client. As the world of web development matured, clients demanded ever more sophisticated pieces of software to extend their sites from brochureware to interactive destinations that helped them engage with the company brand.
So, WordPress and Drupal develop
ers began extending software with modules, components, plugins and extensions (all terms used by various CMS platforms.) These third-party extensions are what make the open source development CMS platforms so appealing. If you need a sophisticated registration application for your organization, odds are, you have many choices per platform. So why choose Drupal over WordPress or WordPress over Drupal? There are a few key differences:
WordPress, for it's reach and useability, owns 60% of the CMS market share. Drupal, less than 10%. So there are far more people using WordPress with many more extensions. This large install base also creates a tasty opportunity for hackers. If you're going to disrupt a lot of web sites, pick a platform that is widely used and can be exploited. WordPress does a good job of patching, but the platforms in and of themselves are more porous for a lot of reasons.
First, there are far more extensions for WP than Drupal, and there is no real vetting process. Anyone can put out a module, from their own site, and not maintain it, opening up the whole site that uses that plugin to hacking. There are comparitively less sophisticated users using WordPress (no offense to awesome WP developers, you know who you are and we bow to you for your work) because of the volume of DIY users and installed base. So these users probably don't employ best practices of selecting modules. They see one and boom, ten seconds later, it's installed and they don't look back (ever.)
For all it's ease of use out of the box, though, WP is comparitively harder to develop custom features for than Drupal. This is probably a slightly Drupal bias here, but the nature of the underlying structure of the CMS that makes it easier to develop custom features for.
Drupal's benefit as a more secure platform means that the upgrade and maintenance costs are comparitively lower than for WordPress. Customization is easier in Drupal than WordPress, so custom features and functions cost less to develop.
Drupal's development structure is going to change significantly with Drupal 8's release, putting it even further down an enterprise-level path. This will even further separate the two platforms. Drupal 7, right now, can be, with the right development team, a very affordable, secure and easy platform to develop custom theming, custom features AND stablity.
WordPress will probably always still lead the micro- and small-site market. In a head to head comparison between the two platforms, here is our professional assessment through daily use of both platforms:
| | |
| --- | --- |
| Drupal | WordPress |
| 7.0x, 8.0 announced |  3.0x, 4.0 has been announced |
| 1 million installed base | 60 million installed base |
| Developers |  DIY'ers |
| Vetted extensions at Drupal.org | Extensions at WordPress.org |
| Large scale, custom features | Small to mid-scale, out of the box features |
| Extensive role and permission credentialing | More limited user and role credentialing |
| Theme platforms designers and developers can customize | Many custom and customizable themes DIYers can customize |
| The geeky platform | The everyman platform |
| Whitehouse.gov | The New Yorker.com |
As you can see, there are compelling reasons for either platform – and one is not necessarily better than the other, but there are reasons why it may be more suited for one than the other. Passionate developers on both sides of the discussion will lobby for their favorite. As a marketing-based content-developer outsider, your job is to determine what platform makes the most sense from a time, cost and best-match for your organization's needs. If you're looking for custom features you can't find off the shelf, you'll really need to take a hard look at Drupal. If you want a DIY and out of the box solution ready to go with more minimal customization needed, absolutely take a look at WordPress.
In any case, whatever platform you choose, the function of your web site should be to attract and convert visitors to evangelists, and that won't change regardless of the platform. To learn more about what your website should have in it's feature set, download this guide: