My favorite local social media feed is a Facebook feed from a thrift store that is aligned with a Christian mission movement in our town. The store, called City Rescue Mission Upscale Thrift posts on Facebook several times a day, and it's worth seeking out their posts when the algorithm doesn't show them because they're funny and engaging. Imagine that. Customers seek out your feed even when Facebook doesn't show it.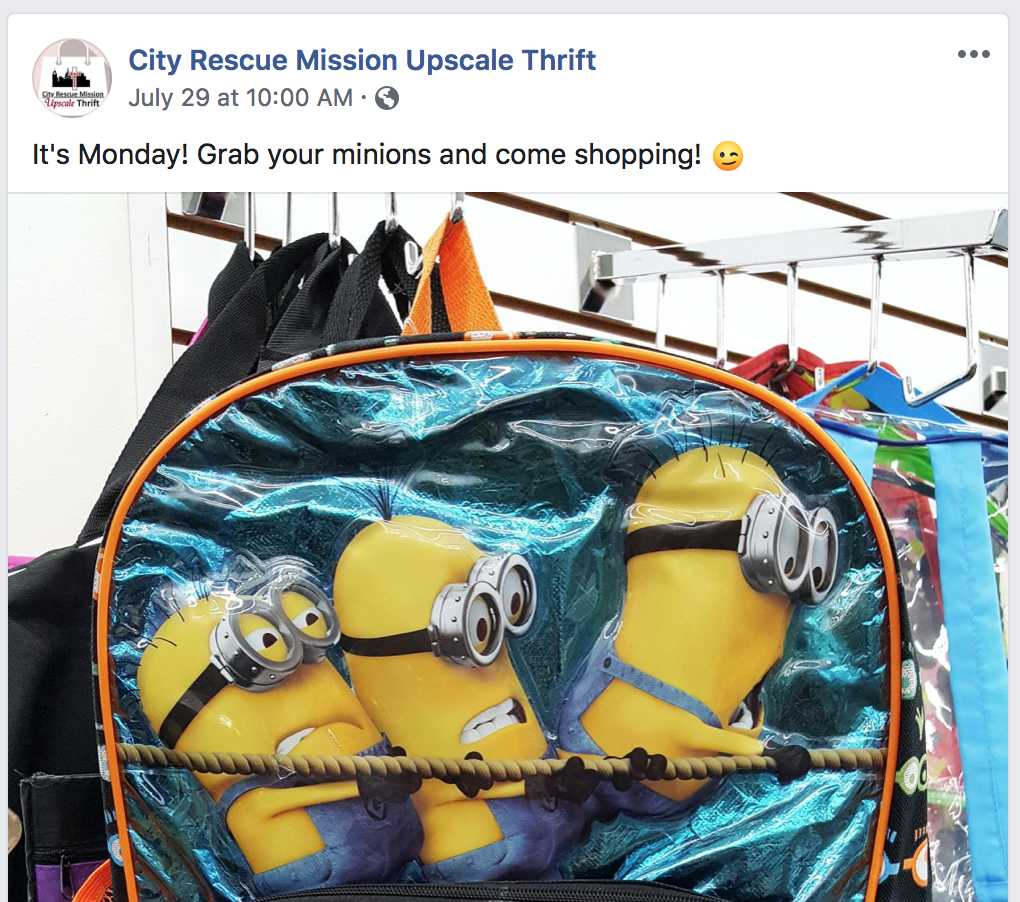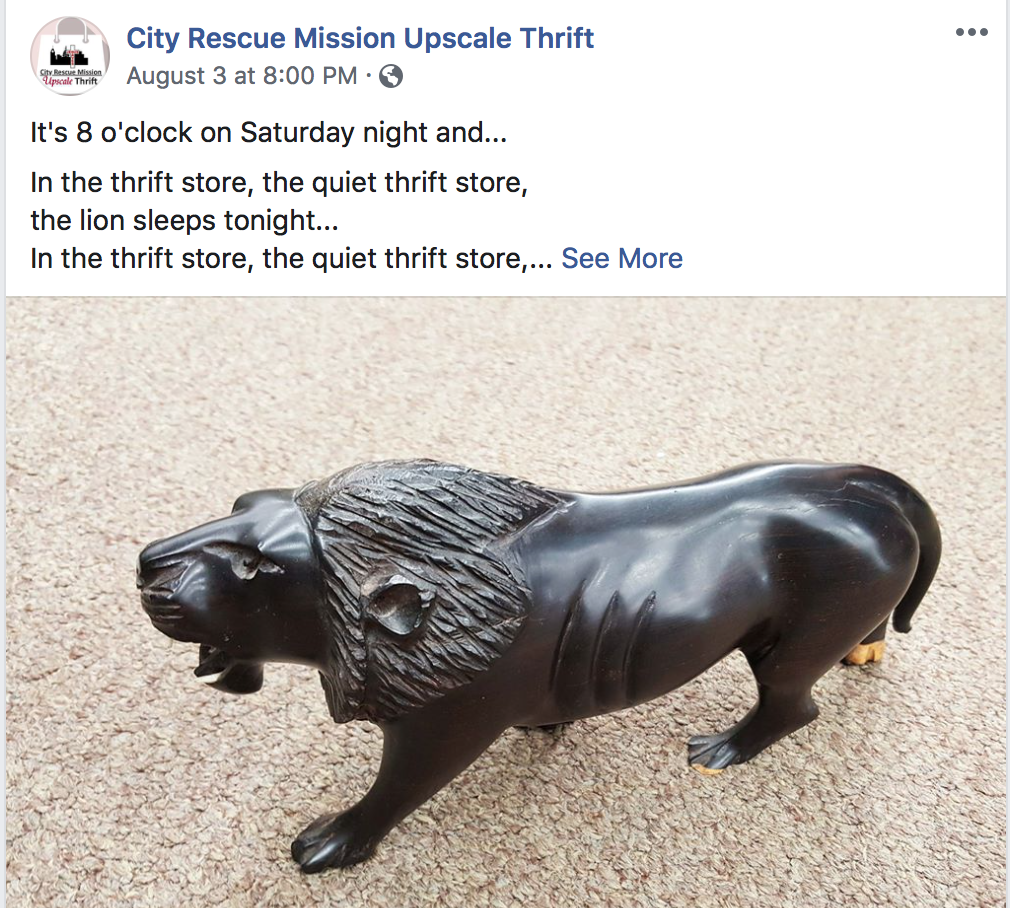 Most businesses try to be very professional with their feeds, but being funny, honest, clever, AUTHENTIC is the very best way to engage your audience, especially a local one. There are a lot of great examples of fun social feeds from businesses both in my town and yours, but I like this example because it's a thrift store – they don't control their inventory, and they hire people who work for retail wages – but their feed is funny, worthy of checking out.
I'm a thrift store shopper. What started as a high-school desire to build a wardrobe on a budget, through college-years supplying my apartment with kitchen gadgets, took me into wanting to live with less of a high ecological footprint. Thrift supplies that. But there are a lot of thrift stores and secondhand stores in my town – and many more proliferate online, too. When you go the extra distance to create an engaging and fun social feed to connect with customers outside of their trips to your store or business, you create a connection. And that's truly what marketing – and business – is all about. People buy from people they like.
Now, you might not have a funny bone, but you can certainly be authentic and emotionally connect with customers in your content online. You can be honest, even acerbic if that's your style. But authenticity on social and on your website is what resonates. And it's one of THE most delightful aspects of digital marketing and social media as a business owner – connecting with your customers (especially with online busineses). Back in the day, shopkeepers knew their customers. In today's world, we really don't get that opportunity, and it's even harder if you run a retail store online. Building authenticity and connection on social media is the juice that keeps your business fresh.
Post regularly. Daily posts allow the algorithm to show your posts to your fans more often
Use good hashtags that are relevant to your audience. Follow similar businesses for ideas with hashtags
Be authentic in your posts, let your personality shine through
Engage with your customers daily, commenting on each post you get
Use your own voice, not the "business voice" that you might think you need
Be sure your website also reflects the same authentic language and feel so that customers feel the brand across your social shared and owned media
Connecting with customers in an authentic way on your website, social media and in person is the way to create a brand. Brand is an EXPERIENCE, the shortest emotional distance between a customer and a company. Emotional is the key word in that concept.
Shortening the emotional distance between you and your customers should be your business goal and you should extend that across all digital marketing you have – from your website to your social media to your online advertising.