Way back in 2017 – yeah, that feels like ages ago now – Instagram launched their Story function that allows accounts to share stories to their followers that last for just 24 hours. Perhaps this sounds somewhat familiar, and that's because they weren't the first to do it!
Snapchat, another noteworthy social media platform, has been using the same Story function for years with great success so it makes sense that Instagram hopped on the wave.
The year is 2021 now and the Story function has only grown since it first launched on IG. The real questions now are why should you use stories how can you use it to boost your business?
They allow you to interact with your customers without bombarding them with content
Posting regular updates to your social media is an important part to your business's success. It allows your viewers to see your latest products and updates. However, it's not always great to fill your customer's feed with your content multiple times a day and that is where stories come in!
They allow you to post small updates and sneak peeks of your business that sit at the top of Instagram and then your most important content can be posted when needed. Stories give you many touchpoints that don't feel annoying so you can post as much as you want there.
They allow you to interact with your customers more
While comments, DMs and other Instagram tools leave many open doors for your customers to interact with your business, stories offer even more! While using stories you can post polls where you can get direct feedback on new ideas or promotions.
You can also prompt questions or host contests that demand interaction with your stories so more and more people will find your page.
Collaborate with content creators
A cool way many businesses are using stories nowadays is letting trusted content creators take over their Instagram stories for the day and showing off how they utilize what your business offers.
A great example of this could be found in the sewing industry. Perhaps you have an employee or know a fellow sewer who creates excellent designs using your products. You can allow them access to your Instagram with a temporary password and they can post stories throughout the day detailing the construction of a new piece you are launching.
Now you're sold, but how do you get started?
We get it, there are so many possibilities with IG stories, but what's the best way to get the ball rolling? How do you ACTUALLY use them? Check out the screen shots below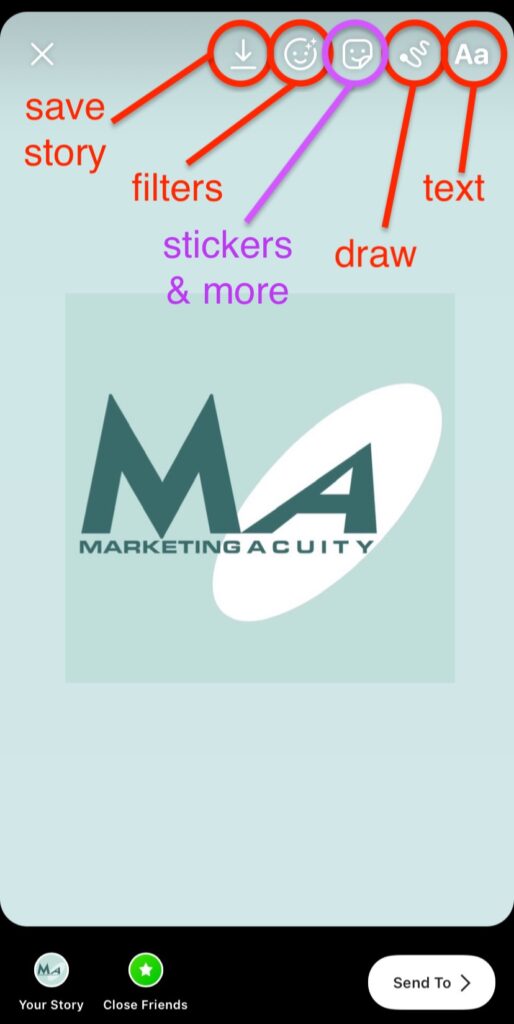 In this screenshot I would like to call your attention to a few things. The save story button allows you to save your work to your own personal camera roll so you can re-access it later. The filters button allows you to put filters onto your story for different visual aesthetic effects. The draw button allows you to draw on your story using various pens/markers. The text button allows you to add text to your stories. Lastly, the purple circle is the stickers button that I will dive into in the next screenshot.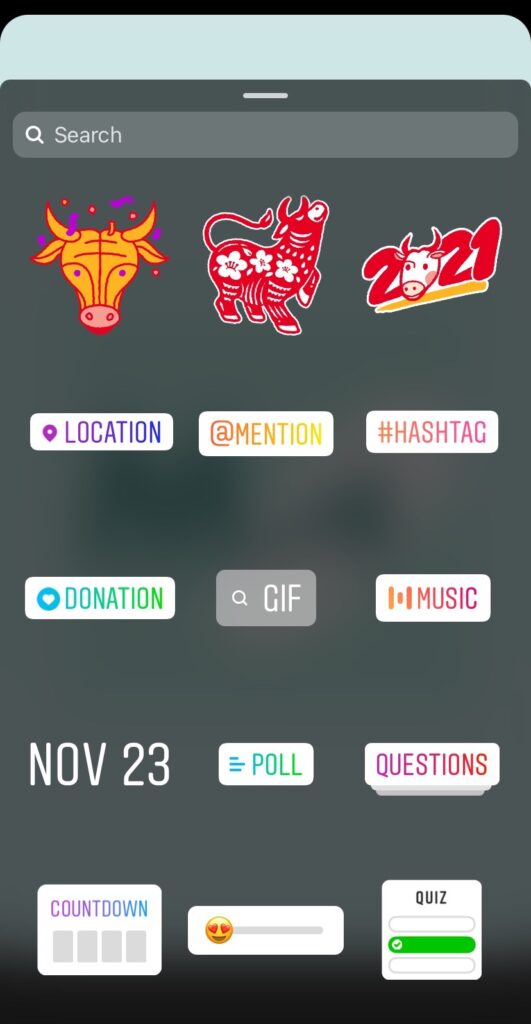 This screenshot is the box that pops up when you click on the purple circle in the first screenshot. It's going to be your best friend while using Instagram stories for a multitude of reasons. First, there are many awesome buttons you can use right off the bat, I'll list them below and what you can do with them:
Location: tag where you're located so your audience can see where you're traveling to or what you're up to
Mention: tag a business partner or customer who sent in content for you to share
Hashtag: hashtags work on stories! Include your business's own hashtag or one that people in your industry use
Donation: Looking to raise funds for a cause? Use the donation tool so people can donate directly to your business
Gif: use the gif search icon to find a humorous gif to add to your story
Music: Add a favorite song to your story (whether it's static or a video) to add in some variety – everyone loves a good song
Date: perhaps you archive your stories and save them to your page, use this to show your audience when the content was posted
Poll: use this to poll your audience on a new business idea or anything for that matter
Questions: encourage your audience to submit questions about a new product or your business using this button on a story
Countdown: Have a big product launch in the works? Post a countdown to let your audience know when it's coming
Quiz: Post a question and let your audience test their knowledge
The possibilities don't stop here, you can search up other stickers in the search bar to add unique designs or images to your stories to make them stick out. As you can see at the top, there are some Lunar New Year stickers that Instagram is offering right now as we enter the year of the bull.
Still looking for some guidance? Fill out the form below for a free consultation and we can help you get your Instagram stories right on track.