Building landing pages to convert prospects is one of the best investments you can make on your website. So, how about some landing page building 101? Let's go!
First off, let's define landing page. Some people call a home page a landing page (it's not) or any page on the website (also not a landing page). A landing page has one specific task – it's to get a customer to convert on something on your website. In theory if someone lands on that page from some other link, it should be called a landing page, but that's not always the case.
A landing page design has:
ONE purpose – to inform and convert a customer to take a specific action
No extraneous details
Good copywriting that is enticing
An image or graphic (optional but we often recognize things faster in photographs and images than in words and they offer emotional validation)
A form and/or a button
Different kinds of sites require different kinds of landing pages:
Service businesses
If your offer is a downloadable offer, you will need a form with a minimum of first name, last name and email address collection. You can get away with more fields such as phone number, company name or even an interest question if the offer is pretty juicy (valuable).
E-commerce businesses
Your goal is to convert to paying customers. Your offer on a landing page is to get them to sign up so that you can offer them a discount in exchange for email address and basic contact information. Most often here, you'll be using a popup with a coupon code in email for your landing page offer.
But you can also use your product detail page as a landing page – it meets the criteria of one offer or message, a clear call to action with detail that sells the conversion (buy now!) You'll collect your customer's marketing info in the transaction, so go for the sale and treat every product detail page like a landing page.
Let's look at the anatomy of an landing page:
Your logo
A headline
A benefit statement, sentence or bullets
A form
A button
The benefits are the result the customer wants or needs.
If you're offering a download, it's not about the download itself, it's about what it will DO for the customer "help you organize your social media content with this easy to use planner" or "get perfectly fitting pants with our three-step pant-fitting guide" or "apply your state-required boat registration stickers easily and quickly" – whatever the thing that the customer WANTS at the end of this is the content you're going to write.
Design:
Landing pages have gotten really pretty in recent years with photo backgrounds, integrated forms on top, even illustrations and other media assets – pretty much whatever you can design on a page, you can have as a landing page. We've included a few sketches of the landing page ideas we've shown here. Each one of these can easily be built in any website builder like WordPress or SquareSpace or Wix. Some CRMs have landing page builders included. Hubspot even has a free landing page builder attached to their CRM.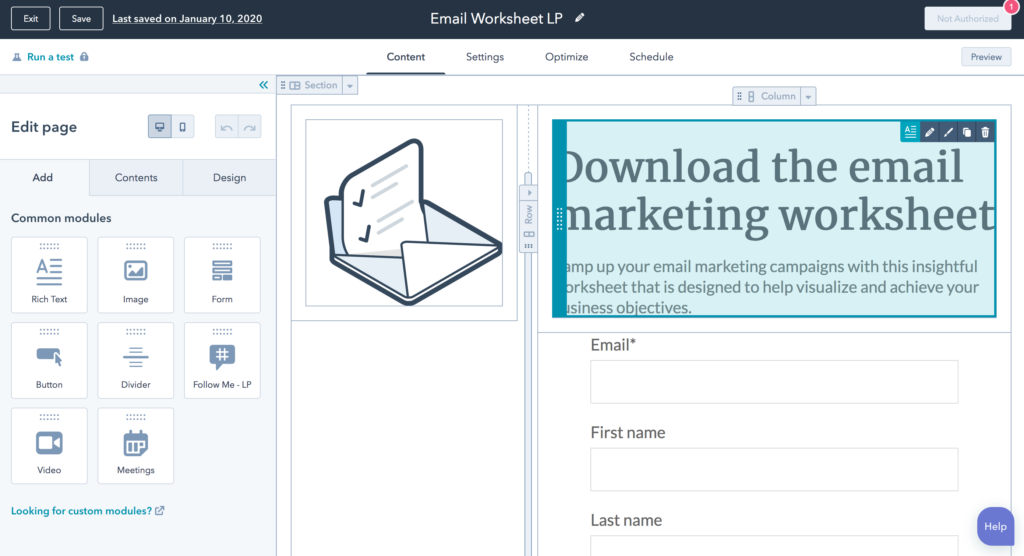 Functionality:
The mechanics of delivering the stuff from your landing page depends on your website or CRM platform – some platforms allow you to upload a file (if you're giving a downloadable), every platform will allow you to put in a discount code (your commerce app is where you set up the discount), and some allow you to confirm with the customer via email. Confirming with them via email gives you (and them) that crucial opt-in required to use their email address again later.
Tools we love:
Use your own website tools in SquareSpace or WordPress or Wix.
Create them in your dedicated CRM (with forms!) using Hubspot
Build them in your email application using Constant Contact or MailChimp
Give it a go! Create your own landing page and try it out.
Once you're done, publish your landing page, and now, let's link it to something!
Promote your landing page:
Link to it from your website's header or slider on your home page
Put it in an exit intent popup (or link to it from popup box on your website)
Put a link in your email
Include a link when you post on social networking sites
Share it in presentations
Include it in proposals
Share your landing page with us!
Want a professional review of your page (even if it's just a "way to go! Great job! Nailed it!" ? We're happy to review your landing page – send us your URL and we'll review your page for FREE. Fill out the form below to submit (see what we did there?) Fill in your name, email and the URL of your landing page and we will review your page for FREE!