Optimizing your website to generate leads is an absolute must. When you've invested a lot of effort to get a prospective customer from social media to your website, you want to be sure to capture their email and contact information. If you don't, the opportunity to convert that customer to a paying one could be lost if they leave without a purchase or an engagement with your company. To understand how to optimize your website, it's important you gain a basic understanding of how the lead generation process works.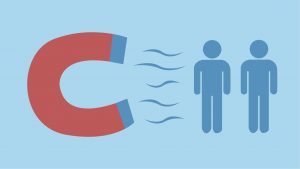 The process starts when a visitor to your website clicks on a call-to-action (CTA) located on your site pages or blog posts. The CTA directs them to a landing page with a form that is used to collect the visitor's contact information. In exchange for their information, you need to offer something of value, whether it's an e-book, free guide, coupon code or whatever it may be. Once the visitor submits the form, lead them to a thank-you page. Now, it's time to get down to the details. Here are 5 ways you can optimize your site for lead generation.
Call-To-Action On Homepage 
Your homepage is what catches a person's attention, the CTA is what converts them. It's really important to have a CTA on every page of your site – you don't know where they will enter. Maybe they did a search and landed on a blog post or an internal page on your site. Maybe you sent them to your home page or a sub page with specific content. But, you don't want to go overboard with the CTAs. The CTA should be simple. For example, you should offer a free trial or ask if they want to subscribe for updates such as a newsletter in exchange for a coupon.
The truth is, majority people aren't going to make a purchase the first time they visit your site. To build trust and credibility, invite them to subscribe to email that notifies them of industry trends and product/store updates or sale notifications. If you really want to take it to the next level, reach out to each subscriber individually thanking them for their participation.  You can do this by monitoring the people that sign up (either in  your CRM, or your email client's database.  Sign up to receive notifications of new subscribers so you can do an immediate personal email back. You can also set up email automation in both your marketing CRM, like Hubsopt, or even your email provider like Constant Contact or MailChimp.
Adding Forms to Most Popular Pages
You need to be able to track where most of your online traffic and outreach comes from. Use your analytics tool to conduct an audit of your traffic so you can leverage your success. For example, if most of your leads are coming from Instagram to a specific page, your next step is to update those pages with engaging content. On your most popular pages, be sure to include longer form-content to gather more information or redirect them to another page.
Now, you're most likely not going to perfect this your first time. It's important to measure each lead generator's performance. You should also compare landing pages that are doing well with landing pages that aren't performing. Let's say Page A has a conversion rate of 1% and Page B has a conversion rate of 5%. By studying Page B, you can figure out what content works and what to avoid. See how Page A differs from Page B and optimize Page A accordingly. And linking from Page B to Page A is  a good way to boost the effectiveness of both pages.
Communicating Your Intentions  
Visitors are more likely to fill out your form when you are informative and persuasive. You need to give the visitor confidence to commit. Before you get the sale, the prospect needs to have trust in your business otherwise their instincts will tell them to exit.  A clear and concise message is the best way to build trust with your audience. There's a few different ways to accomplish this.
The first way is to publish a good-resolution image that resonates with your prospects. Try to connect with them on a personal level. Use their current experience or the experience they want to help make your image. Another way is to be very thorough when using call-to-actions. Tell your prospects exactly what actions they need to take in order to get the outcome they desire. Finally, make sure all your contact information is available. Have your email, phone number, and social media all posted in a section of your website that is visible, preferably on every page of the site.
Lead generation is by far one of the most important aspects of an online business.  You depend on leads to close sales and grow your business. The goal should be to never let a visitor leave your website unsatisfied – or unconnected. Follow the methods above, and you will start to acquire a flow of quality leads. Quality leads lead to more great customers, and everyone wants more great customers!